Anson
ZA Bushing Stock
THE BEARING MATERIAL OF CHOICE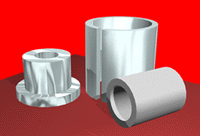 ZA 12 (Zinc Aluminum Alloy)
Available in hollow or round bar.
The Anson 2500 series sleeve bearing is used in mills across North America. Many projects now specify the Anson 2500 series bearing complete with ZA bushing rather than bronze. This has resulted in a growing interest in this material as an alternative to bronze.
The following are some of the benefits of using ZA:
ZA usually wears less than bronze for longer bearing life.
ZA outperforms 660 bronze in wear resistance and anti-friction characteristics by a wide margin (typically 3 to 1).
ZA offers good compressive strength and demonstrates higher bearing load capability than 660 bronze.
ZA is up to 40% lighter then bronze.
ZA castings eliminate the need for costly bronze inserts by using the casting wall as the bearing race.
ZA alloys have shown superior emergency ``dry running`` performance and galling.
ZA has a greater ability to absorb embedded dirt particles without causing bearing or shaft wear.
ZA alloys machine rapidly with low tool wear.