Anson
2500 Series

Bearings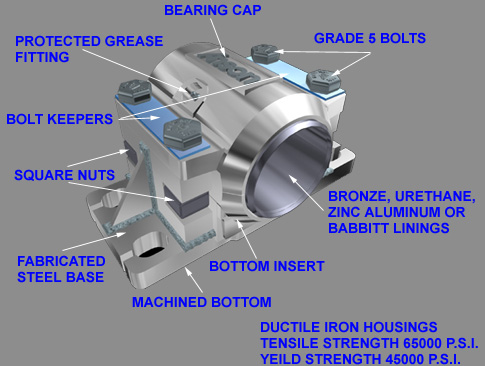 Over 100 mills across North America can attest to this innovative 3-piece split sleeve bearing.
Features Include:
Babbitt, Urethane, Zinc Aluminum and Bronze Bushed castings are interchangeable.
Base made of fabricated steel and may be welded down to maintain shaft alignment.
This becomes the permanent fixture onto which housings are installed.
Replacement of bearing cartridge consists of:
Unbolt top cap of bearing.
The bottom half (insert) can be replaced by jacking up shaft, push out bottom half, and replace with new insert. The drive chain and deck chains remain in place during the change. Alignment of the shaft is maintained throughout the replacement operation.
When shock loads are involved, as with stop unloaders, kickers & bumpers, urethane should be used because of its excellent memory. The urethane contains 2% moly and graphite, and can be used on shafts running up to 85 RPM without lubrication.
On heavy radial loads, Za or Bronze should be used
(Za 12 wears better than 660 Bronze at a reduced cost).
On all bore size and larger all that is required for replacement is a set of rollout shells.
The only bearing to use around log decks, log stops, hourglass rolls, kickers, etc.
or wherever bearings are difficult to reach.
2-2500 SERIES BEARINGS
(4 BOLT.)
| | | | | | | | | | | | | | | | | |
| --- | --- | --- | --- | --- | --- | --- | --- | --- | --- | --- | --- | --- | --- | --- | --- | --- |
| BORE | A | B | C | D | E | F | G | H | L | S | T | U | V | Y | Z | WT. |
| 2 7/16 | 2 3/4 | 8 | 10 1/4 | 5 | 3 3/4 | 5/8 | 2 | 1 | 5 | 1 | 5 5/8 | 6 1/4 | 4 3/8 | 2 3/4 | 4 3/4 | 25 |
| 2 15/16 | 3 1/4 | 8 3/4 | 11 | 6 | 4 1/4 | 5/8 | 2 1/2 | 1 | 5 5/8 | 1 | 6 | 6 3/4 | 5 | 3 3/16 | 5 | 35 |
| 3 7/16 | 3 1/2 | 10 1/2 | 13 | 7 | 4 5/8 | 3/4 | 2 3/4 | 1 | 6 3/8 | 1 1/4 | 7 1/4 | 8 | 5 1/4 | 3 5/8 | 6 | 46 |
| 3 15/16 | 3 3/4 | 12 | 14 3/4 | 8 | 5 1/4 | 3/4 | 3 | 1 1/4 | 6 7/8 | 1 3/8 | 7 5/8 | 8 1/4 | 5 5/8 | 4 | 6 1/2 | 64 |
| 4 7/16 | 4 1/8 | 13 1/2 | 16 1/2 | 9 | 6 1/4 | 7/8 | 3 1/2 | 1 1/4 | 7 5/8 | 1 1/2 | 8 7/8 | 9 5/8 | 6 | 4 7/8 | 7 1/2 | 90 |
| 4 15/16 | 4 1/2 | 15 | 18 | 10 | 7 | 7/8 | 4 | 1 1/4 | 8 1/2 | 1 5/8 | 9 1/2 | 10 3/8 | 6 1/2 | 5 1/2 | 8 | 115 |
| 5 7/16 | 5 1/2 | 16 1/2 | 20 1/2 | 12 | 8 1/2 | 1 1/8 | 5 | 1 1/2 | 10 | 1 7/8 | 12 | 12 3/4 | 7 5/8 | 6 3/4 | 10 1/8 | 200 |
| 5 15/16 | 5 1/2 | 16 1/2 | 20 1/2 | 12 | 8 1/2 | 1 1/8 | 5 | 1 1/2 | 10 | 1 7/8 | 12 | 12 3/4 | 7 5/8 | 6 3/4 | 10 1/8 | 200 |
| 6 7/16 | 6 1/2 | 19 | 23 | 14 | 10 | 1 1/4 | 6 | 2 | 11 1/2 | 2 | 14 1/8 | 15 | 8 3/4 | 7 5/8 | 12 | 300 |
| 6 15/16 | 6 1/2 | 19 | 23 | 14 | 10 | 1 1/4 | 6 | 2 | 11 1/2 | 2 | 14 1/8 | 15 | 8 3/4 | 7 5/8 | 12 | 300 |
| 7 7/16 | 7 | 21 1/2 | 26 | 16 | 11 | 1 1/4 | 6 3/4 | 2 | 13 | 2 1/4 | 17 | 18 | 9 3/4 | 8 1/2 | 14 3/8 | 480 |
| 7 15/16 | 7 | 21 1/2 | 26 | 16 | 11 | 1 1/4 | 6 3/4 | 2 | 13 | 2 1/4 | 17 | 18 | 9 3/4 | 8 1/2 | 14 3/8 | 480 |
| 8 | 7 | 21 1/2 | 26 | 16 | 11 | 1 1/4 | 6 3/4 | 2 | 13 | 2 1/4 | 17 | 18 | 9 3/4 | 8 1/2 | 14 3/8 | 480 |
2500 SERIES BEARINGS
(2 BOLT.)
| | | | | | | | | | | | | | | | | |
| --- | --- | --- | --- | --- | --- | --- | --- | --- | --- | --- | --- | --- | --- | --- | --- | --- |
| BORE | A | B | C | D | E | F | G | H | L | S | T | U | V | Y | Z | WT. |
| 2 7/16 | 2 3/4 | 8 | 10 1/4 | 5 | 3 3/4 | 3/4 | n/a | 1 | 5 | 1 1/8 | 5 5/8 | 6 1/4 | 4 3/8 | 2 3/4 | 4 3/4 | 25 |
| 2 15/16 | 3 1/4 | 9 1/2 | 12 1/4 | 6 | 4 1/4 | 7/8 | n/a | 1 | 5 5/8 | 1 3/8 | 6 | 6 3/4 | 5 | 3 3/16 | 5 | 35 |